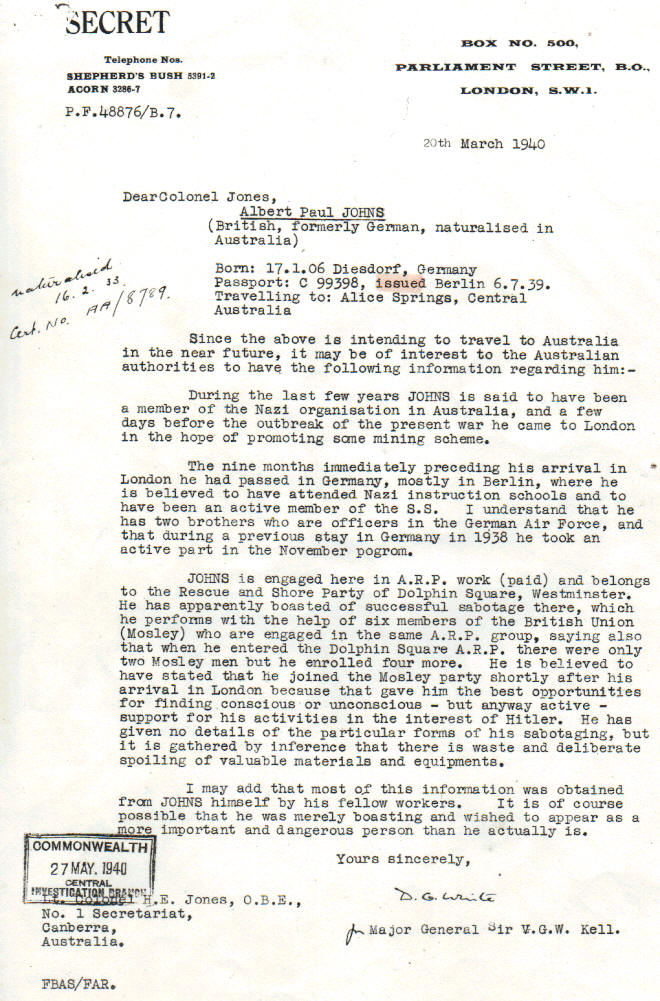 National Archives Australia. Series: A367/1. Item: C75655. Title: JOHNS, Albert Paul.
Albert Paul Johns was the last known European to see Lasseter alive, the two men parted company at Illbilla at the end of October 1930, in less than amicable circumstances. Johns returned to Alice Springs via Hermannsburg with Lasseter's mysterious, 'letters of instruction', and Lasseter set off on his final journey to perish in the Petermann Ranges.
Johns has an interesting history and considerable involvement in the latter stages of the C.A.G.E. Expedition. Born in Diesdorf Germany on the 17th January 1906, not much is known of his early life, although he considered himself well educated. In March1926 he was issued with German passport No. 2492 and less than a week later, at the London Docks, was refused entry to Great Britain, apparently for stowing away on the S.S. Viola. Johns then travelled on to Australia via South Africa on the S.S. Halle, and jumped ship at Port Adelaide in July 1926. He eventually made his way to Alice Springs, arriving there in mid 1929. Between 1926 to early 1929, Johns spent some time in the Clare Valley district of South Australia.
Pastor Albrecht from Hermannsburg Mission first met Johns in Alice Springs, "During the winter months of 1929", when Johns approached him regarding a job at the mission. The Pastor was able to oblige and Johns worked at Hermannsburg as a general hand for several months before returning to Alice Springs. Possibly in June 1930, Johns contacted the Mission hoping to buy or hire a number of camels, Pastor Albrecht wondered, "what he wanted the camels for ?". Johns was quite open and revealing with his explanation. He told Albrecht about the recently formed C.A.G.E. Expedition and their plans to travel to Illbilla in a Thornycroft truck, and from there across the desert to the Petermann Ranges. Johns was quite certain that the expedition would not be able to travel between Illbilla and the Petermanns, "from Ilbilla they will need camels. I am going out there to meet the expedition, so that when they are stuck, they will hire me". The Pastor noted that this is precisely what happened. Remarkable anticipation for an illegal immigrant who had been in Central Australia for just one year!.
It is possible that Albrecht was able to supply Johns with three camels, certainly not enough to safely transport two men over the intervening desert. Johns would need two or three more camels to make up a minimum string. According to Walter Smith, a notable Alice Springs camelman and prospector, he and his mate Frank Sprigg were surreptitiously approached by Lasseter, a few days before the expedition left town and an agreement made to 'grubstake' Lasseter and Johns with scant supplies and two camels in return for shares in the reef. If Smith's oral recollections are true then all four men are party to an underhanded arrangement and not the first made by Lasseter in the search for his 'reef'. Johns now had five camels and enough supplies to last a month or so and a leisurely camel trip to Illbilla.
One can speculate on the route taken by Johns, via Hermannsburg, then north west along the Missionaries Plain to Mount Udor, by July 1930 a well travelled route although Albrecht does not mention Johns passing through the Mission. Or he may have followed the Expedition at a discreet distance, with a little dogging on the way to authenticate the persona of a dingo trapper. By whatever route, Johns timed his appearance at Illbilla towards the end of August on the day the Expedition returned from Mount Marjorie, it is very likely that Johns was in the vicinity of Illbilla some time beforehand and it is possible that Lasseter and Johns had already made contact and fine tuned arrangements for the camel journey to the Petermanns. Blakeley makes a few references to Lasseter's walks to the waterhole and nearby Ehrenberg Ranges, marking his way with white ochre on the rocks.
Johns and his two Aboriginal guides became well acquainted with the C.A.G.E. team over the next few days and as a contingency, Blakeley made a loose arrangement with the young German dogger to 'hang about' the waterhole pending results of anticipated exploration to the Southwest. Johns comfortable existence at Illbilla came to an abrupt end on 2/9/30 when Coote and Hall arrived flying the Golden Quest II. Coote was suspicious of Johns presence at the camp, "I'll bet he's hanging around either to join up or follow the expedition". The cocky airman then gave Blakeley a more than gentle hint to move the dogger on, "somebody's going to look silly if he is not out of here tomorrow, or before we leave", it's amusing to ponder how the pilot intended to enforce his threat, a clip in the ear from the burly Blakeley would flatten the fool. Nevertheless Johns and his camel team left Illbilla next morning. As Coote writes, "But where did he go? Like a boomerang he came back again later, and he played an important part in the tragedy that has become historic -- the death of Lasseter". A thought provoking choice of words.
Johns probably went no further than a days camel ride from the waterhole, he had no reason to go further, knowing the arrangements with Lasseter and Blakeley would sooner or later come to fruition, besides there was a very large supply dump to 'guard'. The C.A.G.E. team returned to Illbilla on 11/09/30 after it's unsuccessful attempt to find a way south to the Petermanns, The next day Blakeley climbed Mt Leyell Brown and that evening set off an intense long burning flare to attract Johns attention, Johns responded the following morning by silently entering the camp carrying a revolver and jokingly demanding the men put their hands up. Blakeley writes that Johns stealthy and threatening arrival, "rather antagonized us all ~ I gave him a piece of my mind that was not music to his ears and had there been any alternative he would not have got the job". There's a subtle difference between Lasseter refusing to return to Alice Springs and determination to find his reef, the former means fraud charges, while continuing the search with Johns may lead to a fortuitous 'ipso facto' discovery. With some misgivings, Blakeley agreed to sign Paul Johns and his five camels on for two months from 13/09/30 as Lasseter's guide to the Petermanns. "it had happened as this young man had calculated".
Johns and Lasseter left Ilbilla on 15/09/30 and headed east along the expeditions well marked track and camped with Fred Colson that night, probably north of Mount Kutta Kutta. Freddy was returning to Illbilla with supplies and final instructions for the Expedition, thus being the penultimate European to see Lasseter alive. From this point on there is no reliable record of Lasseter's fate or movements. The so called 'Lasseter's Diary', Oral History and any accounts by Johns are not considered reliable, in the light of later events, especially Johns. With rather nice timing the German dingo trapper returned to Alice Springs alone, three days after Coote's return from his misadventures at Ayers Rock. Johns left no first hand written record of his journey with Lasseter to the Petermanns, and history has to rely on what Coote wrote in 'Hell's Airport'. At this time Coote had been sacked as Leader of the C.A.G.E. Expedition and John Bailey, the Company Chairman appointed Phillip Taylor as manager of the Company's interests in Central Australia. Taylor rehired Johns, and both men left Alice Springs on 27/11/30 for Illbilla, there to await the arrival of Pittendrigh and Hamre in the Golden Quest II to continue the search for Lasseter.
The next two and a half months were a series of mishaps and debacle, culminating in the forced landing of the Golden Quest II, the search for the missing pilot and engineer and recovery of the plane took several weeks. Taylor and Johns finally commenced the search for Lasseter from Illbilla on 9/2/31 but were on the track for only three days before Taylor fell seriously ill and both men were forced to return to Hermannsburg, arriving there on 17/02/30, while recovering at the Mission over the next three days, Taylor hired Bob Buck to continue the search for Lasseter and also heard some disturbing news concerning Paul Johns and his relations with the Aboriginals and threats of violence towards the missionaries, and "Also that in A.S. (Alice Springs) it is said that Johns has murdered Lasseter". Pastor Albrecht ordered Johns off the Mission with twelve hours notice and Taylor dismissed him from the Company's employment.
Apparently Johns odd jobbed about Alice Springs for the next couple of years and in November 1932 applied for Naturalization and was granted citizenship on 16/2/33. Nothing further was heard from Johns until Kurt Johannsen, in his biography, 'A Son of the Red Centre' mentions meeting Johns and a mate in Adelaide in late 1936, and in their company travelling on to Melbourne. Johannsen writes about a number of shady incidents on the trip and they part ways in embarrassing circumstances. Johannsen finishes his account with a list of Johns later crimes including fraud, false advertising and car theft and ultimately, deportation to Germany. Deportation usually means bureaucracy and files, and the next stop in the search for Johns was the National Archives.
Australia is fortunate in having world class archives, and with expert help it took less than ten minutes to track down a very interesting dossier on Albert Paul Johns. Johns was charged with car theft in Brisbane on 6/8/37, and sentenced to six months hard labour, and deported to Germany immediately on the expiation of his sentence. Correspondence on the file indicates Johns involvement in the Nazi party and persecution of the Jews in the 1938 pogrom, attendance at Nazi instruction schools and perhaps a member of the S.S. By some means Johns returned to London a few days before the commencement of World War Two, and insinuated himself into the city's civil defence organisation. Johns was exposed in March 1940 and interred for the remainder of the war. In later correspondence the British respectfully ask their Australian colleagues what might be done with Johns, considering his past crimes and present circumstances, the Australian reply could well have been terminal, but they chose to revoke his citizenship, and as far as they were concerned Johns could remain a guest of His Majesty for the duration.
After the war Johns applied for return to Australia and after some bureaucratic fudging the initial decision remained in force and Johns was denied entry to Australia. Information on what happened to Johns after release from the British prison is due to the generous collaboration of a fellow Lasseterian, M. G. from W. A. In 1972 Johns was interviewed by a London reporter, named David Jensen. Johns is now 66 years old and a retired antique dealer, residing in "the small English town of Limpsfield in Kent". Apparently Johns had, "revived-- The legend of Australian explorer Harold Bell Lasseter and his 20-mile long gold reef in the Gibson Desert", and the yarn was a talking point in town, Johns was unwise in talking to Jensen who probed the man as well as the legend. "The former adventurer left Australia in 1939 and returned to his native Germany. Not happy with what Hitler was doing he left for England and spent the war in internment". After release Jensen writes that Johns spent some time with his English wife in Rhodesia and returned to England, presumably to become an antique dealer in Limpsfield, Kent.
Johns recollection of events at Illbilla and the Petermanns are contradictory to previous reports, including his own. He arrived at Illbilla with two camels and seven Aboriginals to find the expedition in difficulties, "The truck had run out of petrol and their plane had crashed", however Johns is consistent in the broad sense, for months he and Lasseter searched unsuccessfully for 'twin peaks' somewhere in the Petermanns and were forced back to Illbilla for supplies, Johns would go on to Alice Springs for help and instructions from C.A.G.E. "I left Lasseter at the camp and told him on no account to move, I warned him that if he did he could die. He ignored that warning....and that was the last time I ever saw him". Johns briefly mentions that Lasseter left Illbilla with two camels, the crash of the Golden Quest II and the finding of Lasseter's body by a bushman. "the records say he died of dysentery but I'm firmly convinced that the Aboriginals killed him".
Johns made no mention of returning with 'letters of instruction' from Lasseter, simply that he telegrammed C.A.G.E. for more funds and that Lasseter was in "grave danger", Jensen finishes the interview with, "Mr. Johns jokingly talks about going back to Australia to search again for the elusive reef". I'm getting a bit restless in retirement". he said. And jokingly talk he might, Johns never returned to Australia, Citizenship revoked!.
© R.Ross. 1999-2006