As far as known there are five Lasseter Trees, and given the longevity of the Australian gum tree some may still be shading Lasseter's memories; not all of the trees were blazed by Lasseter but each has a story to tell and something to add to the Lasseter Legend. The term was first used by Mounted Constable, W. McKinnon in 1933, while on one of his earliest South West patrols. I will start with a small mystery solved and what became of Walter Gill's memorial to the dead prospector and the fencing of his grave.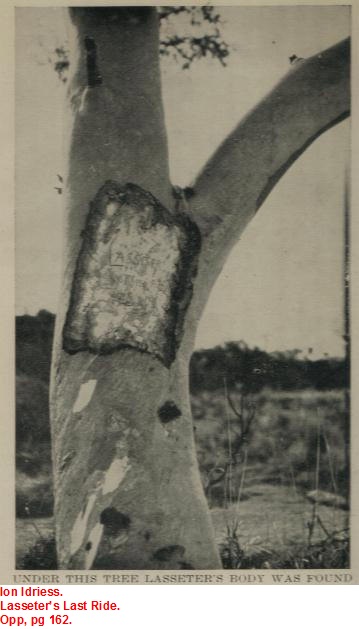 On Monday the 1st of June 1931, Walter Gill and his companions, Bob Buck, Johnson Breaden, and Billy Buttons arrived at Winter's Glen where Buck had buried Lasseter three months earlier, Gill was not impressed with Buck's idea of a decent burial, "Well, I just dug a bloody 'ole an' poured th' poor bastard in". Gill suggested that the grave should be fenced, while Buck and his helpers set about the task, "I went to the only sizeable tree in the vicinity-a salmon gum standing at least fifteen yards away-and carved this inscription in the smooth bark:"
LASSITER.
Died.
Jan. 1931.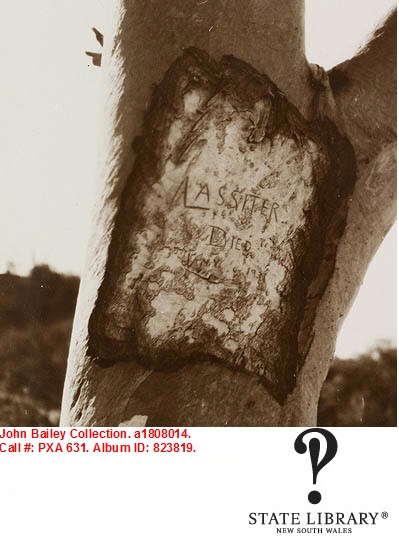 On surveying his work Gill realised that he had misspelt Lasseter's name, and the inscription, carved into the bark and not the heartwood, would soon be covered with new growth and unreadable. Part of the Second C.A.G.E expedition arrived at Lasseter's grave on 3/11/1931 and for photographic reasons, Edwin Cooper, the Assistant Wireless Operator, carved a headboard for Lasseter's grave and reworked Gill's inscription, the above photograph is the result and appears opposite page 162 in Lasseter's Last Ride, the grave, now fenced and marked, opposite page 194.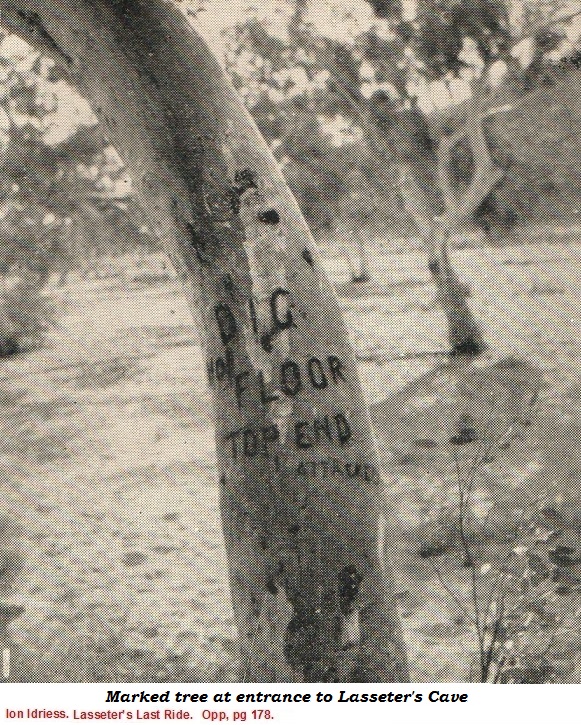 Perhaps the best known Lasseter Tree, immediately outside his cave on the Hull River, the photograph was taken by E. Brandon-Cremer on the Second C.A.G.E. Expedition. There are a few 'difficulties' with the message on this tree, not the least it is carved on the side facing the cave, hardly obvious to any searchers, and Talbot, the geologist on this expedition thought the word "attacked" had been added sometime after the original message. But all may be as it appears and innocent enough, the message did lead to the discovery of Lasseter's diary.
The real difficulty lay with Bob Buck's almost offhand discovery of this tree while he was leader of the Expedition, for the record shows that Buck was very close to this tree and the cave on four, perhaps five previous occasions, in fact Johnson Breaden led Buck's camel team down the Hull on 05/06/31 and passed the tree and cave less than a hundred yards to his right, unnoticed, while Gill and Buck climbed the ridge opposite the cave and surveyed the land. That evening Gill and his guides camped with dozens of Aboriginals a mile or so downstream from the cave and spent four days in their company, yet no mention was made of Lasseter's refuge, now a significant locale in any man's lore.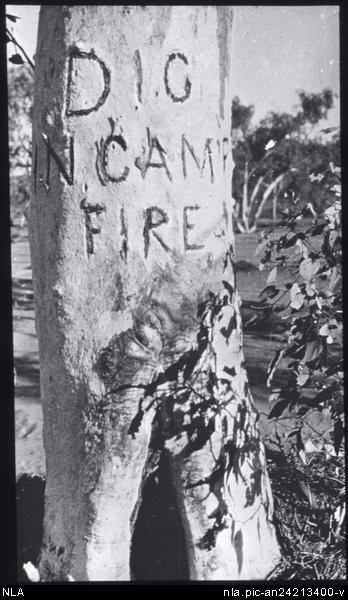 Another of Lasseter's trees across the creek from his cave
William McKinnon of the Northern Territory Police, was a Mounted Constable in the South West Patrol when he became involved in the Lasseter affair, he forayed widely through Lasseter Country but left scant personal record of his remarkable and sometimes controversial journeys. While he may have been a man of few words he did carry a camera and his films always returned to Alice Springs, the results show a keen eye for subject and composition.
This photo is a lantern slide from the National Library's Australian Inland Mission collection. Author Flynn, John, 1880-1951 http://nla.gov.au/nla.pic-an24213400. The Northern Territory Archive Service also features the photo on their, Brief Guide No. 1, August 2000, referenced as the Bill McKinnon collection, NTRS 234, CP457, titled, "Another of Lasseter's trees across the creek from his cave".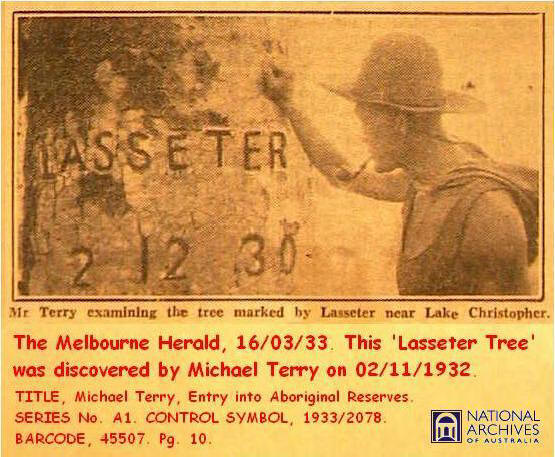 Located west of Circus Water and possibly the first tree marked by Lasseter. Michael Terry discovered this tree on 2/11/32 while travelling west to Lake Christopher and onward to the Warburton Ranges, "Well, one morning as we rode amid a few large cabbage gums, we noted a blazed tree. To our great surprise, we found on the bark of one the inscription: Lasseter -- 2/12/30. We had not expected to discover evidence of his journey so far afield, as previously it had not seemed likely he had gone beyond the Petermann Ranges. It also explained two lone camel tracks which had puzzled us." Terry and his mates, Ben Nicker and Stan O'Grady, continued west and later that day found more Lasseter sign scratched into the bed of Lake Christopher.
This photograph and the accompanying article caused Terry some angst when it appeared in the newspapers in March 1933, a few concerned citizens wrote to the Government complaining that Terry was exploiting the Aboriginals and their waterholes. A short enquiry by V. G. Carrington. the Deputy Administrator at Alice Springs showed that Terry had done nothing untoward in entering the Aboriginal Reserve to replenish water supplies, a common enough practise and condoned at the time.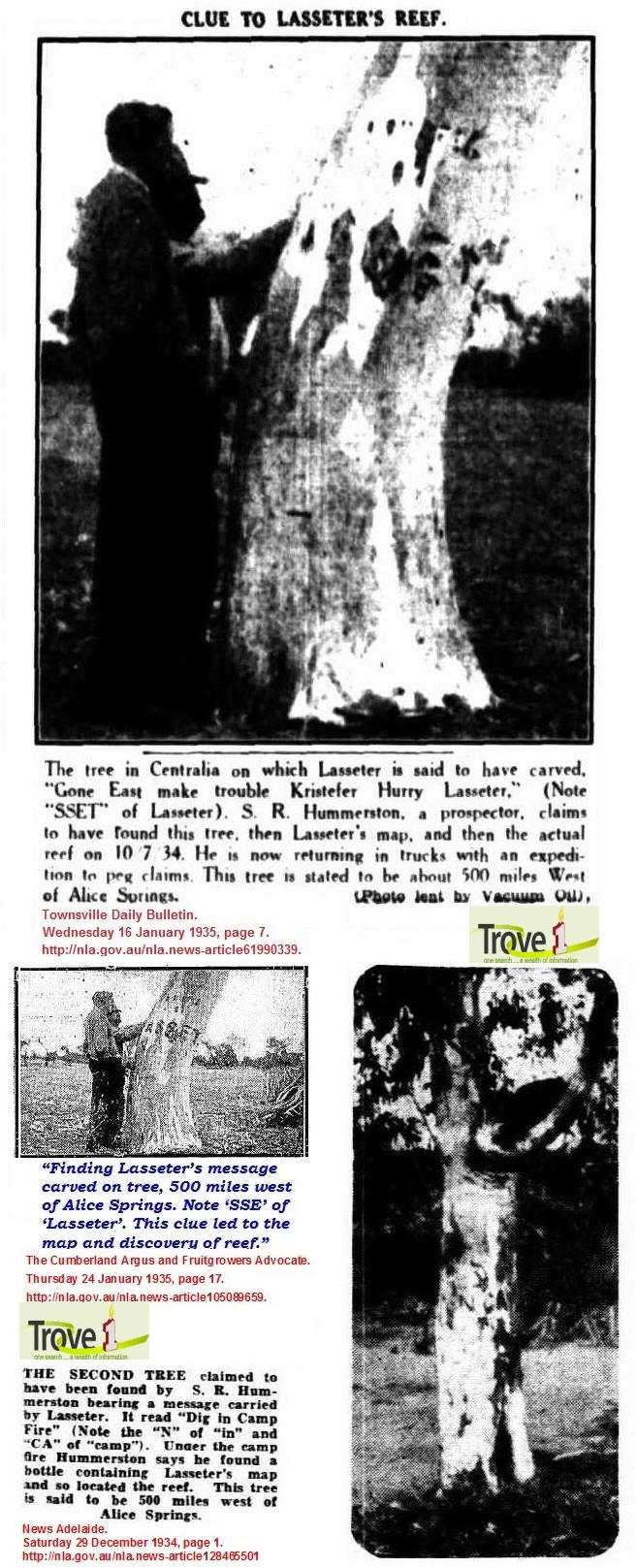 The last Lasseter Tree and the beginning of the longest running Lasseter Reef fraud, perpetrated by Stan Hummerston in 1933 when he prepared the ground, and ending with Neville Harding in 1967. There were at least some subtleties, with perhaps a dash of sophistication, about the Bailey's attempt to profit from Lasseter and his little fraud, on the other hand, Hummerston and Cutlack were crude in the extreme, yet they ran a modestly successful scam for many years, backed by just two photographs and imagination.
Of course Hummerston always stated that, "he had in his possession", the usual array of bottles, maps and specimens, found under Lasseter's camp fires and guided by the codes hidden in Lasseter's messages, none these artefacts have been sighted to this day. The reader will notice that the part of Lasseter's name visible in the smaller photo reads ASSET, as indeed it was; and 500 miles west of Alice Springs is a weeks camel ride into Western Australia to somewhere in the north eastern parts of the Gibson Desert.
"THE SECOND TREE claimed to have been found by S. R. Hummerston''' is the tree photographed by William McKinnon in 1933, McKinnon noted that any signs of camp fires had been swept away by floods and seeing no cryptic directions in Lasseter's message he searched no further, Lasseter was to trouble him enough in years to come.