In the above quote Fred Blakeley was referring to a conversation between Errol Coote and Harold Lasseter at Illbilla on the 3rd of September 1930; Lasseter and Pat Hall had just returned from a reconnaissance flight to the south and south west, searching for Lasseter's landmarks, it was a disappointed crowd who heard Lasseter report that the expedition was still 150 miles too far north, and that was all he had to say. Lasseter's reticence prompted Coote to take him aside and point out that unless he provided more specific information regarding his reef he would likely end up in jail, "for bringing us out here on a wild goose chase", Coote infers the threat got results, Lasseter drew a sand map showing Lake Christopher as a radial point in relation to other vague landmarks that would locate the reef. The private discussion ended with Coote agreeing that Lasseter's directions were something to go but feeling he had missed a cue, and Lasseter cautioning Coote not to to say anything to the others, especially Blakeley.
Blakeley, somewhat miffed at being excluded, niggled Coote about getting the good oil, and concluded that this had lead to Coote's misadventure at Ayers Rock. There may have been some small satisfaction for Blakeley if he read the first version of Coote's private information when it appeared in the prospectus for the West Centralian Gold Exploration Company in August 1932.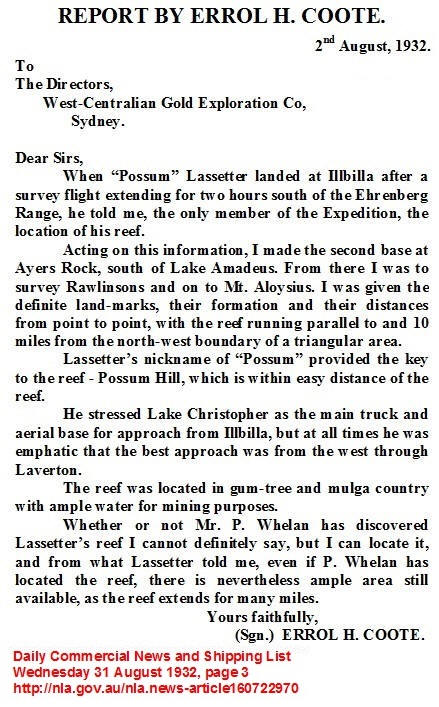 By August 1932, Coote's information was known far and wide, as early as August 1930 Lasseter's business partners, Edward Edwards and W. F. Roberts, were aware from Lasseter's correspondence, that he was off his course by 70 miles at Illbilla, and later in November C.A.G.E. were considering the best ways and means of using the information relayed to them by Paul Johns on his return to Alice Springs, leading to the much publicised and near fatal sealed orders fiasco, where Pittendrigh and Hamre failed to deliver the mail and went missing for three weeks. In April 1931 Lasseter's invisible ink directions to the reef were revealed by the Guardian newspaper, and the 5th edition of Lasseter's Last Ride included a map showing Lake Christopher as a radial point to landmarks in all directions with Possum Hill 100 miles south.
It was Paddy Whelan's discovery in the Livesey Range in late July 1932, that prompted Coote to reveal his private info, it was, "Lasseter's nickname of "Possum" provided the key to the reef - Possum Hill, which is within easy distance of the reef". the reef being Whelan's discovery and he agreed that the reef may Lasseter's as he had found six pegged claims on the ground. Whelan's, awful rot, to quote Michael Terry, caused a gold rush of sorts and Coote with his private key to the reef was determined to be part of it, but more for the publicity and with a book in mind.
Coote had a somewhat different version of the discussion between himself and Lasseter when he published Hell's Airport in march 1934.
In this leaner version of the conversation, there is no mention of Possum Hill and Coote went on to say that he was not completely satisfied with Lasseter's revelations, sensing a disconnect between bearings and landmarks (there are several) and being a navigator of sorts wondering how Lasseter could use a sextant to determine latitude, that is, 150 miles too far north; No doubt the shareholders of C.A.G.E. were most dissatisfied with Coote's apparent duplicity in withholding valuable information for two years, a few noting that Coote may also be a navigator of convenience, placing the key to the Eldorado, Possum Hill, just outside the Company's prospecting concession, a circular deception centred on Lake Christopher of course. It seems Insider Trading was not a crime in 1930.