What with coded telegrams, invisible ink and now sealed orders, the Lasseter Legend confirms its reputation as a Boy's Own misadventure. One of the 'boys' was the Company Secretary, Ernest H. Bailey, and on the 10th January 1931, (co-incidentally the day Pittendrigh and Hamre were found by the R. A. A. F.) he made an unusual statement, widely reported in the rural press. The Glen Innes Examiner, under the headline, "LOST AIRMEN Flying Under Sealed Orders MAY BE SAFE. According to the secretary of the Central Australian Gold Exploration Coy. the missing airmen, Pittendrigh and Geologist Hamre, left under sealed orders and may have reached their destination safely. Their objective was a secret reef the site of which was known to only a few". A future conundrum for Bailey, at this point in time only Lasseter should know the location of his secret reef.
The Barrier Miner carried the same story but with the headline, "AGED MAN'S DEATH. MAY HAVE FOUND SITE OF A SECRET REEF", Lasseter would have taken exception to this statement; having celebrated his fiftieth birthday four months earlier at Mount Olga, he would not consider himself aged, and this appears to be the first report suggesting that he may have perished, (on this day Lasseter was holed up in his cave on the Hull River, contemplating an uncertain future) The Brisbane Telegraph added, "that the plane Golden Quest left Sydney with sealed instructions, and may have reached its destination, which is Lake Christopher", this is the first reference by C.A.G.E. to Lake Christopher, perhaps leaving a few readers and shareholders wondering why the Expedition was based at Illbilla? and the remarkable range of the Golden Quest II.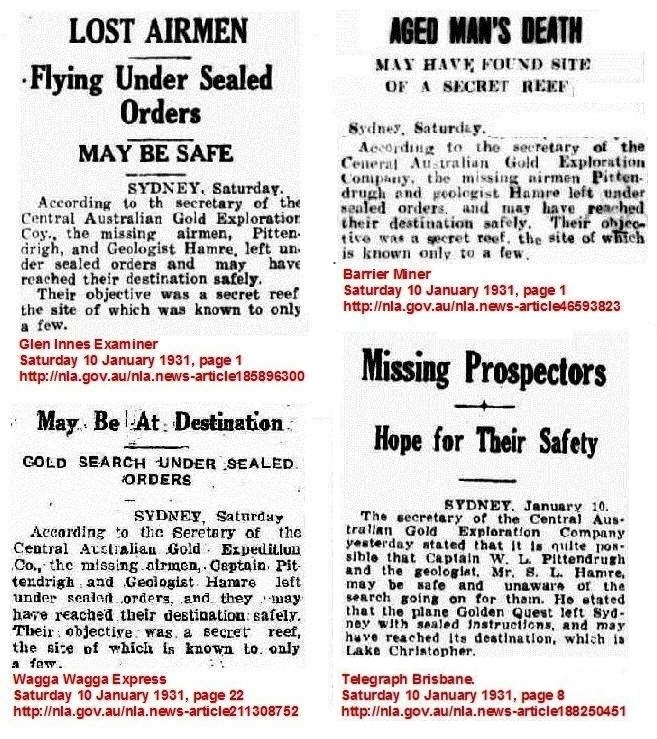 A couple of days later John Bailey, the Company Chairman, let it be known through the Sydney Morning Herald, "that he had no cognisance of any sealed orders which the airmen had been instructed to carry out", a safe enough statement now that Pittendrigh and Hamre had been found, otherwise Bailey Snr. would be in a very difficult position explaining the apparent withholding of vital information for the past ten days regarding the true route and destination of the Golden Quest II. Of course any speculation on Lasseter's whereabouts and intentions was lost in the publicity surrounding the rescue of Pittendrigh and Hamre, as Fred Blakeley noted, "Lasseter had to stay very quietly 'lost' until the limelight was turned in his direction again".
A sceptical Glenn Innes Examiner worried the story for a few more days, observing that Captain Pittendrigh's story of how he and his companion lived in the desert for nearly three weeks has still to be told. Ion Idriess would do the telling nine months later, writing five dramatic chapters in Lasseter's Last Ride on Pittendrigh and Hamre's struggle to survive in the desert.
The mysterious sealed orders came to light on the 24th of January, when Philip Taylor recovered the mail from the Golden Quest II, the sealed orders were nothing more or less than a set of instructions on the route Taylor should travel when searching for Lasseter. But Lasseter was not the Company's first priority and he would have to stay very quietly 'lost', until Taylor carried out more urgent orders, he was instructed to recover the Golden Quest and rebuild the plane, ready to be flown back to Sydney, apparently the Golden Quest II was worth more than Lasseter's Reef. Repairs were finished on the 2nd of Feb, according to the official record, Lasseter perished at Winters Glen, four days earlier.
Taylor and Johns did not leave Illbilla until 09/02/1931, a week later Taylor was in the care of Pastor Albrecht at Hermannsburg, eight months in the field and the last man standing from the first expedition had finally succumbed to Illbilla's poisonous water. Albrecht and Heinrich recommended Bob Buck continue the search. Taylor has rewritten his instructions in the form of a contract with Buck, but now starting from Hermannsburg, hence Buck visiting Mount Bowley twice and the anomalous diversion to Sandstone Reservoir, this rockhole would have been Taylor's first checkpoint when travelling from Illbilla, then south to Mt Bowley then west to Lake Christopher.
A transcript of the 'Sealed Orders' appeared in Lasseter's Last Ride from the fifth edition onwards, Idriess explaining that," This letter of instruction was not inserted in the earlier editions of this book, as Mr. E. H. Bailey, the Secretary of the Company, asked me to withhold it pending the result of the second expedition".
I hereby give you particulars of the work that I wish you to carry out on behalf of my Company.

I wish you to proceed with all possible haste to the gap at Bowley's Range, between the River Shaw and Irvine Creek and look for a lone hill upon which you will see a single tree; on this hill you will find the remains of a camp fire in the ashes of which you may find a tin containing a letter of instruction. Failing to find anything there go north to Sandstone Rock Reservoir and look for a letter there; should you again find nothing return to the gap at Bowley's Range and go to Mt Curdie and on to McBain's Springs and Henry Hull Springs, all the time looking for tracks and letters in old camp fires-at the same time asking any natives you may meet if they have seen a white man with two camels, the white man being short and stumpy in build. You will at this point cross the border into W.A. and on to Giles Pinnacle, Sladen Waters, along the Rawlinson Range to Lake Christopher. At this lake look either in the centre one of three fires which are reported to be kept burning there. Or look for a hill named Centre Mount Fire, situated on the lake; should you discover nothing spend a reasonable amount of time searching the neighbourhood for tracks etc. and should you be unsuccessful return without delay, but make quite sure that Lasseter is not about before you return.

I am leaving an agreement for you to put your signature to, I trust that it will be to your satisfaction, Rev Albrecht will send it on to me with your name attached.

I am leaving you ample supplies of food, medicine, etc., and you will find all your saddles in good order.

Wishing you the best success in your trip.

I am, am, Yours Faithfully, faithfully, P. Taylor. Taylor, For the C.A.G.E. Co., Ltd.
There's always room for speculation with the Lasseter Legend, but what if Pittendrigh and Hamre had delivered those sealed orders on time? Taylor and Johns would have been underway within the week, at about the time Lasseter's camels bolted, and say a generous three weeks later, a couple of very determined fellows would be confronting Lasseter in his cave, then what? Perhaps Lasseter was meant to "stay very quietly lost",' permanently!