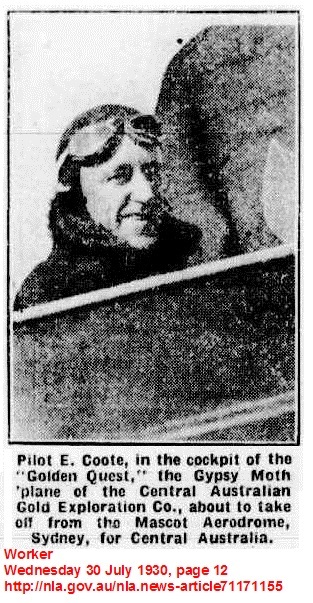 Errol Hampton Coote was the pilot of the Golden Quest and Golden Quest II during the First Lasseter Expedition. He was born in Sydney on the 6th of July 1898, his parents and grandparents had close connections with the Gulgong and Hill End goldfields and no doubt the city boy grew up with plenty of tales of El-Dorado. He was well educated for the times, Summer Hill primary school then Cleveland Street high school followed by commercial college, were he learnt clerking skills. At Sydney University he studied sociology, psychology and criminology and knowing what I know about Coote that seems on 'odd' field of study. It's also unusual for the momentous times, to find a young Australian male at his studies rather than at the Front. But Coote did enlist, on 23/06/17, at the Grosvenor Street Recruiting Depot. It would be very interesting to learn what motivated Coote to fight for King and Country.
Coote did not have an auspicious military career, starting with false personal details on the enlistment forms, why he chose Vancouver, British Columbia, as his place of birth in 1895 is obscure...very! The Army made a point of correcting the matter shortly before his discharge. Private Coote, No. 7699, height, 5 feet-9½ inches, weight, 9 stone, 8 pounds, dark complexion, hazel eyes, black hair and as a 'Distinctive Mark' a slightly crooked nose. During training at the Liverpool Technical Battalion, Coote was charged with being "absent from piquet after being warned for same" and fined three pounds. Posted to Great Britain with the 25th reinforcements to the 3rd Battalion on 19/12/17, arriving there mid February 1918. For the next year or so, Coote filled his military record with misdemeanours and the consequences.
Military records make cryptic reading, but it seems Coote was stricken with appendicitis and influenza from April to August 1918, and when he recovered was posted to the 1st Training Brigade. Training units can be 'difficult places' and Coote lasted less than a fortnight before going A.W.O.L. on the 13th of August, he was arrested a month later in London by the Provost Corp. and held in custody pending a Court Martial. He escaped custody on 11/09/18 and was rearrested a few days, later only to escape again on the day of the Court Martial, 27/09/18. The Military's stiff upper lip would have been fairly quivering at this affront. The Civil Police arrested Coote the following week at Hawkesbury, in possession of a stolen motor bike and side car, the colonial miscreant was handed to the Provos who would have had more than harsh words with Coote. Additional serious charges were laid and a second Court Martial arranged for mid December. Coote would not escape again and he was in very deep trouble.
But British Justice wanted it's day as well, and on the 8th of October 1918 in a, "Trail by Civil Powers at the Court of Petty Sessions Chipping Sodbury 8-10-18. Charge. Hawkesbury 2-10-18 Stealing a Motor Cycle and side-car the value of £35. Pleading Guilty Finding Guilty Sentence Fined £5-0-0 or 1 months imprisonment". Already a prisoner in the Military system and therefore not paid, cost Coote the months alternative in the Chipping Sodbury lock-up, from the 2nd November to 1st December, with 31 days forfeiture of pay for good measure. It would have been a change of scene I suppose and it occurs to me that Coote survived the First World War, he was in a British prison when the Armistice was declared. But the Army hadn't finished with Coote and he was returned to the Detention Barracks to face the music on 13/12/18. The sum of both Courts Martial sentenced Coote to four months detention and the loss of all pay, Coote was in debt to the Army for £26/10/-.
With time already served and the intervention of Major General, The Honourable Sir J. W. McCay, KCMG. CB. VD. and General Officer commanding the A.I.F. Depots in the United Kingdom, Coote was released from Lewes Detention Centre in mid January 1919 and finally landed in France on 26/01/1919. The 'Great War' now history and well over. It is unusual for Generals to intervene in the affairs of Privates but there's a sense of Parental and Political plea behind the General's decision to reduce Coote's sentence, he served six months in peace time France at a Base Depot in the Havre, surely not an onerous duty, then returned to Britain at the end of June and spent July in hospital with tonsillitis. The logistics of demobilisation creaked along until Coote returned to Australia on 29/10/19, and was discharged on 22/11/19. Not an 'edifying' military record and there's no proud Digger about Coote.
By 1922 Coote was a journalist with the Sydney Sun and perhaps a few other newspapers depending on where a quid lay, and in 1929 was awarded the first Australian Gold Medal for the craft. The previous year Coote received his "A" class pilots licence but he let this valuable qualification lapse in June 1929...although he continued to fly, claiming 80 hours solo and blatantly ignoring the Air Navigation Regulations of the day. This aerial misdemeanour was exposed in June the following year when Coote was forced to write to Colonel Brinsmead, Director of Civil Aviation, begging the Colonels, "blessing in connection with an enterprise I am about to embark upon." It's not often the authorities are delivered a fool on a plate, yet the Colonel restrained himself to advising his boss, Texas Green, that he in turn had better notify his mate Arthur Blakeley, the Minister for Home Affairs, that the pilot on his Brothers expedition in search of Lasseter's Reef was unlicenced and, "As far as I know he is not qualified to make a satisfactory job of it". Implicit in the Colonels letter of 23/06/30 was the understanding that said pilot has a big mouth and he will not be going anywhere three days hence, "The party proposes to leave Sydney on Thursday, 26th June".
Coote's letter to Civil Aviation reveals much about Coote, a name dropper with reference to Arthur Blakeley, "and several Federal members are members of the syndicate" to the vice regal connection, "I will be carrying as a passenger ~ Captain Blakiston-Houston, A.D.C. to His Excellency Lord Stonehaven ~ He also, is only going on the Expedition for experience and adventure". And not committed to the hopes of the Company or shareholders with the admission to, "having entered the thing purely from the spirit of adventure, and placing no reliance on the hope of ever finding the reef". So what was Coote's agenda? The Colonel's 'blessings' were called on a second time with the obsequious plea, "this trip ~ will be invaluable experience to me, and knowing that you are desirous of giving every new pilot his chance to put up a good show, I am asking for your blessing". My favorite is the first postscript in the letter, "A fellow named Burlington is trying to but in on this expedition, but several Federal Members have warned us that his presence will not only be a handicap but will be resented. He says he is a competent aircraftsman, mechanic, and flying man. Could you let me know if this so?. Anyhow he is NOT going with us.
A couple of days later Arthur Blakeley acknowledged the Colonels concerns regarding "Airman Coote" and wrote to his colleague, "I have conveyed the information to the Gold-mining Syndicate and apparently they are satisfied". So be it, the Colonel decided, as the aviation laws were written at the time, there was little he could do except renew Coote's licence, providing his log books were up to date. The following week Civil Aviation discovered that the Gypsy Moth aircraft purchased by C.A.G.E. was technically unregistered and for a few days in early July 1930 the Company's aerial plans were founded on an unlicensed pilot flying an unregistered aircraft, and the plane remained unregistered until the 8th of August, Coote destroyed the plane the following day at Ai Ai Creek.
The Central Australian Gold Exploration Company had appointed Coote Chairman of the transport committee, and he was an unwise choice, showing little interest in logistics or organisation other than that required for the Golden Quest. Over the following months the Company's aircraft, that should have been an asset in exploration, became an expensive, time consuming burden at the hands of Coote and confirmed by his own pen in Hell's Airport. The crass pilot seemed quite unaware that his actions had cost the company hundreds of pounds and considerable embarrassment, and possibly Lasseter his life. It was probably the debacle at Ayers Rock when Arthur Blakeley said enough and phoned John Bailey to sack the fool. He and Texas Green had been made look proper asses in front of senior bureaucrats and opposition politicians, not that a certain Colonel would say, I told you so!
Fred Blakeley, the stolid unimaginative leader of the expedition, had little time for Coote or his aircraft, finding the pilot bumptious, mischievous and a silly dandy, "His rigout was laughable, He wore boots like girls wear to ride in at Shows". For the ten week duration of the first stage of the Expedition, Blakeley and Coote spent less than three together, probably a fortunate circumstance, in that short time the leader had nothing positive to say about the pilot, "a new chum-pilot who promptly got himself lost", referring to the Ayers Rock stunt. And Blakeley was in no doubt who had been spreading the damaging and self serving rumour that he and Fred Colson were plotting to snatch Lasseter's Reef.
But the most damaging comments about Coote are written by Coote, he would never appreciate Robbie Burn's maxim, "to see ourselves as others see us", and destroys his integrity with his own pen. "Errol, you plurry adventurer", he took to be an accolade from Charles Ulm as he left the first public C.A.G.E. meeting, after some awkward questions about Lasseter's navigation. Ulm saw straight through the forthcoming Lasseter Reef scam. By the end of that first meeting with Blakiston Houston in the Hotel Australia I decided I didn't like Coote, "being a pressman, I know a great many people who do not know me", perhaps the Captain twitched an eyebrow...just a little. And Coote was in no position to physically back his wild pen when he berates Blakeley for Johns presence in camp at Illbilla. "But somebody's going to look silly if he is not out of here by to-morrow, or before we leave." Coote would have no hope of enforcing his demands, Johns would probably contemplate dingo bait, already poisoned. And there was no excuse for deliberately withholding Lasseter's Lake Christopher information from Blakeley. The reply to Blakeley's snide, "getting the good oil" from Lasseter was a sarcastic, "Just talking aeronautics". The leader of the Expedition and C.A.G.E. were unaware of Lasseter's destination until Paul Johns returned to Alice Springs in mid November 1930.
Blakeley makes reference to Coote's, "private information", and it's connection to Ayers Rock as his base in the search for Lasseter and his reef. Blakeley also had the satisfaction of writing, "Coote had been in charge for two months and all he had accomplished was a costly and useless trip to Ayers Rock", just so. Nor is there excuse for telling three different authorities three different dates to expect his safe return from the Rock; resulting in a confused start to an expensive and unnecessary aerial search mounted from Melbourne. To blame the late arrival of Taylor or the good sense of Albrecht for his circumstances at Ayers Rock is certainly unedifying, more so after Phillip Taylor informed Colonel Brinsmead that the repairs to the Golden Quest II were completed by noon, Thursday, 6th of November, "but Coote did not leave before Saturday morning, had he done so the R.A.A.F. search would have been avoided". That same Saturday morning, fire destroyed Philip Taylor's camp, he was left with the clothes he stood in, photographs and notebooks of the C.A.G.E. Expedition to date were burnt. Thus removing the photographic competition and the written evidence of a sharp observer... it's not impossible. Bailey sacked Coote that afternoon.
So to 1932 when Coote became involved in The West Centralian Gold Exploration Co. chasing another Lasseter reef rumour, this one fuelled by Whelan and Roach et al, the usual suspects. The Company's base of operations was the Warburton Ranges in Western Australia, where Michael Terry was resting after an arduous crossing from the Rawlinson Ranges. Terry's mates were Ben Nicker and Stan O'Grady, good company. Terry made a point of meeting the West Centralian exploration team and wrote the most trenchant first hand observation, They are an unhappy party, chiefly due to Coote who is a very poor type, physically and mentally - a typical Woolloomooloo Yank journalist. It never occurred to Coote that John Bailey would read Hell's Airport in 1934 and immediately deduce that Coote knew of Lasseter's plans and kept them secret from the Chairman of C.A.G.E. and the shareholders for over two months!. Coote left Sydney in 1932, and started work as a publicist with General Motors Holden, got married and wrote a book, in what order is unknown but curious, I can't help thinking that book had unexpected consequences, especially for his reputation. I reckon John Bailey would have seen to that in a muscular fashion, and the Governor General's Aide de Camp would be mightily peeved to be named a common part time insurance salesman.
Coote was editor of General Motors Holden house magazine until 1948, the year the first Holden was produced. He resigned to become a public relations manager with the Post Office for a year, followed by seven years as editor of an electrical trades journal. In 1957 he formed his own public relations company, E. H. Coote and Associates and was involved in two more media/publicity enterprises, as well as editor of several electrical and shipping journals. By 1972 Coote seems to have re-established himself in Melbourne and apparently without turmoil, Until the publication of Fred Blakeley's Dream Millions in that year, "The book shocked Errol Coote", who made immediate plans to revise and print a third edition of Hell's Airport as a counter to Blakeley's disparaging revelations. Coote did not live to see the third edition to print and died after a short and unexpected illness in October 1973. Perhaps Dream Millions was Blakeley's revenge. Coote was full of demons and I don't care to sort them out, not having studied, 'sociology, psychology and criminology'.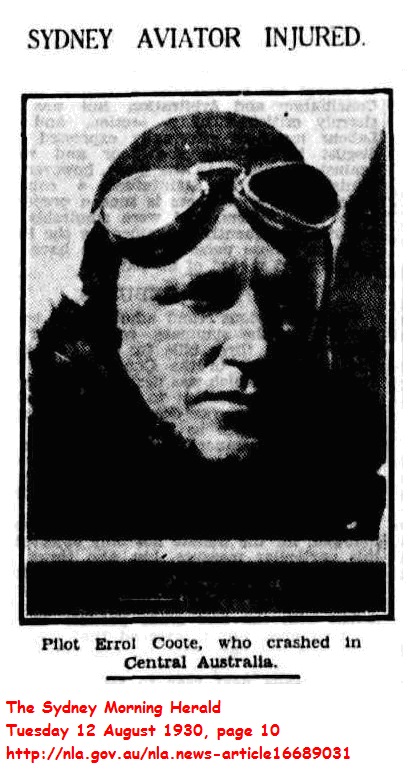 © R.Ross. 1999-2006