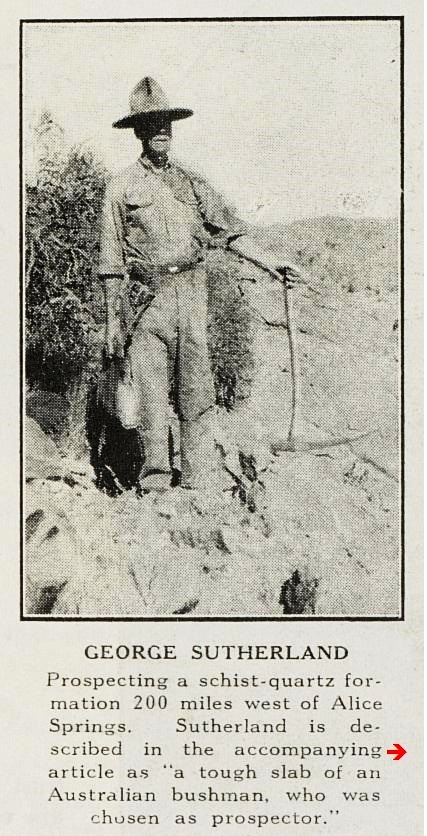 George Sutherland is likely to remain an enigma among the personalities on the first C.A.G.E. Expedition despite recent attempts to endow his life story with deeds beyond his ambitions and capabilities. It was John Jenkins who recommended that Sutherland, along with Blakeley, should interview Lasseter to check his story, apparently Sutherland was sufficiently convinced to become a shareholder in the Company and the miner and prospector on the Expedition. By all accounts he was a fortunate inclusion in the party, his steady cheery outlook encouraged the men through a few difficult situations and knack for conciliation kept Blakeley and Lasseter mostly civil towards each other. He was the most experienced miner and prospector on the Expedition and a handy bushman. "a tall, lanky, tow-headed Australian Scot".
He had many useful talents, "George was considered the best cook of the party", wrote Blakeley, and his dampers the best, the men especially liked his dry hash stew and they lived well while Sutherland was in charge of the kitchen. Idriess relates one of Blakeley's anecdotes where Sutherland lost his reputation as a dabster cook, in the process of kneading a large damper he was beset by a willy willy that added a large amount of sand to the dough, thinking the men had become tucker proud over the past weeks Sutherland baked the damper anyway. That evening he was accused of losing his wits and trying to poison his mates and his damper as heavy as lead and like cutting the pyramids. In Mickys opinion it tasted, "All a same plurry grindstone!" And a man who can sing and tell a good campfire yarn is an asset on any expedition and Sutherland had a fund of stories, except the men seldom heard the end of one, "his voice suffered from statics and faded away". Given to minor practical jokes, especially animal or human footprints leading to Philip Taylor's bunk, causing the young Englishman consternation more than once.
Sutherland lightened many a serious moment on the Expedition but he was not frivolous, giving Blakeley wise council in his dealings with Lasseter and the Sydney Crowd and cautious enough to call the expedition finished at Lasseter's Lookout. He insisted that Blakeley declare camp at about four in the afternoon to give Taylor time to carry out repairs in daylight and a decent evening meal prepared, more so than Blakely he was in touch with the fitness of the Expedition. Sutherland had early suspicions regarding Lasseter and more than once caught him out, notably his too early trip on the railway to Cloncurry, Sutherland had helped build the railway, years after Lasseter passed through. And he thought Lasseter should return to Alice Springs for further instructions rather than break up the Expedition and go it alone.
An odd coincidence has caused George Sutherland to be misidentified with Gavin Hamilton Sutherland, an occasional Sydney Council Alderman and long time Member of the N. S. W. Legislative Council, and crony of John Bailey, both were involved in the sliding ballot box scandal and temporarily expelled from the Labor Party, the incident created wide publicity from which Bailey profited enormously. By chance John Bailey happened to know both Gavin Sutherland and George Sutherland, the latter had no political ambitions beyond paying his union dues and irritating Coote with his anti Lang stance, thus placing himself in the Bailey/Blakeley political camp. Over time this tenuous political association and similarity in names has caused George Sutherland to be accused of election fraud and bribery. The real culprit, G. H. Sutherland, thirteen years younger, seems not to have swung a pick or pegged a claim in his life, and began his political career at the age of sixteen.
The only readily available accounts of George Sutherland are from the Three Pens and all portray him as a happy sensible fellow. One would like to think Coote has quoted Blakiston-Houston truly when he considered gold ventures in the Himalayas, "I'd like to take George Sutherland along with me, too. He's a great old scout."
© R.Ross. 1999-2006